The Perfect Gift for the Child Who Loves God & Science!
Explore the wonder of the universe in these two bestselling devotionals from Louie Giglio!
These books are written especially for kids ages 6-10, but even older kids and adults will enjoy learning cool science facts with the young readers!
Each devotion includes amazing scientific facts, beautiful photography, fun illustrations, simple activities and a closing prayer.
Content is based on pastor Louie Giglio's well-known "How Great Is Our God" and "Indescribable" messages.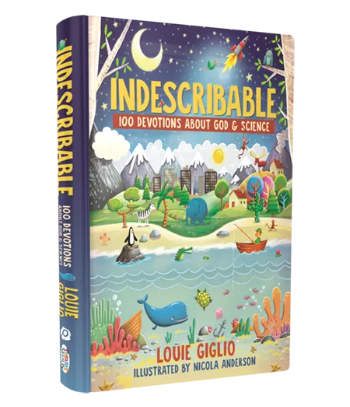 It's impossible to out-imagine God. He orchestrates time, creates light, and speaks things into existence—from the largest stars to the smallest starfish. God is a powerful, purposeful, personal, unparalleled Creator.
Psalm 19:1 says, "The heavens tell the glory of God. And the skies announce what his hands have made."
Indescribable displays the majesty of creation with scientific findings, photography, and original illustrations. These 100 devotions encourage awe at God's creativity with an in-depth look at
• Space, Galaxies, Planets, and Stars
• Earth, Geology, Oceans, and Weather
• Animals—from Hummingbirds to Dinosaurs
• Our Minds, Bodies, and Imaginations
Each devotion features a "Be Amazed" section with fascinating facts, hands-on activities, and a closing prayer. Based on Louie Giglio's popular messages "Indescribable" and "How Great Is Our God," Indescribable: 100 Devotions About God & Science will help kids discover the incredible creation of our indescribable God.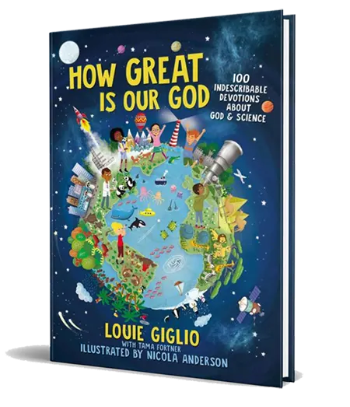 The bestselling children's devotional Indescribable: 100 Devotions About God and Science resonated with more than 200,000 kids, parents, and teachers. Now Louie Giglio offers 100 more devotions about God and science that will expand the curiosity of your 6- to 10-year-olds.

Including amazing scientific facts, beautiful photography, fun illustrations, and simple activities, How Great Is Our God covers topics like
• Space and time
• Earth and Weather
• Plants and animals
• The Human Body
• And much more!

With this science devotional, children will embark on a journey to discover more about God and His incredible creation. From the pink lake in Senegal to the earth's trip around the sun to the water-holding frog that can live up to five years without a drink, the wonders of the universe will deepen your kids' appreciation for God's wild imagination.
Over one hundred 5-star customer reviews!
Indescribable books! My grandchildren AND their parents LOVE these!
- Jane M.
Beautifully illustrated and interesting. This book is the second one I have purchased for my grandsons. They love nature and science, so putting that together with biblical truths is perfect for their growing relationship with God. Love the illustrations too!
Wonderful. This is a great way to teach children about God's world.
This book is awesome for children who are always looking for things and answers. My son loves it and I am also into it because it explains some great things and challenges others. A very good way to answer questions.
Perfect for science lovers! Bought this for my science-loving 8 year old and he loves it! It's something he looks forward to daily to expand his knowledge and see how nature glorifies God.
Discover the wonders of God's creation! Bestselling author and pastor Louie Giglio brings Indescribable for Little Ones, an interactive board book that will introduce the littlest readers to God's amazing world. Young children will be awestruck as they pull tabs and turn a wheel to reveal that everything, from the ants on the ground to the stars in the sky, was made by God.